In today's digital world most people have at least a thousand and many people have thousands of music files (songs) on their computers, phones, and other digital devices. And, you are likely one of them. To often though these libraries are a mess. As files are transferred from one computer to the next, then to a phone, then back to a computer than back to a phone again, a number of problems develop: song duplication, a hodge podge of file formats, different volumes or loudness levels, and missing meta data (song title, artist, album, year, etc) are all common symptoms. If that describes your music library, then you've come to the right place, because Audio Surgeon can help you fix these problems.
Since Audio Surgeon is a batch file processor it works, not one file at a time, but rather by analyzing your ENTIRE Library at once saving you an enormous amount of time.
There are two models of Audio Surgeon: Standard and Pro. The Standard model is geared to average consumers that have a collection of songs or music files and want to keep them organized, with no duplicates and with correct song title, artist names and other ID3 tag data.
Audio Surgeon Pro is geared toward musicians, DJ's and audiophiles that have additional needs beyond those found in Standard. The Pro model has the added features of being able to append tempo (BPM), music key, and Camelot number to the file name. In addition, it enables user to change the key or tempo of a song or batch of songs – and it does so using one of the best audio key change algorithms available today. Please refer to the Standard vs. Pro comparison page for a more complete overview of the differences between the Standard and the Pro models.
Below is a quick summary of some of AS's major features.
1.
Analyzes and Displays File Characteristics
When files are added to and analyzed by Audio Surgeon, it displays the file size, file type, bitrate, sample rate, frequency, bit depth, music key, tempo, Camelot number, number of channels, DB level, and ID3 tags.
2.
Works on Audio (including audio from videos)
Audio Surgeon works with most common audio file formats. In addition it can open and strip the audio channel from video files and then save this audio in a new file (Pro Model only). Also opens Windows and Apple playlists.
3.
File Grouping and Sorting
Once files have been loaded and analyzed you can search or filter them to group files or songs by key, Camelot number, bpm or other file characteristics.
4.
Duplicate Detection and Deletion
As part of the grouping and sorting you can also check for duplicates. Audio Surgeon gives you the ability to match unique data to determine whether or not something is really a duplicate. In addition to the standard file name, you can ask AS to narrow this duplicate checking by adding in file length, and song tempo.
5.
ID3 Tag Data Repair
Audio Surgeon has a unique ID3 tag data repair feature. When enabled it will find tags for files that are missing such data. It can even check the accuracy of your existing ID3 data. AS's ID3 tag system checks for Song Title, Artist, Album, and Year
6.
Volume Normalization
Audio Surgeon has a volume normalization option. When you open a group of files, you can review the differing DB levels between each of the individual files, and if you'd like to you can normalize them so they all are of the same loudness.
7.
Key and Tempo Change
There are many software programs that change key and tempo, but they do it one file at a time. Audio Surgeon is the only program that can change the key or tempo of a group or batch of songs. Importantly, when making modest changes to key or tempo the quality of the audio remains the same as the original.
8.
Appending to File Name
To help you permanently group songs or files, Audio Surgeon allows you to append the song key, song tempo, and Camelot number to the file name. This can be very helpful when viewing files outside of Audio Surgeon, and trying to find or sort a file based upon the appended characteristics.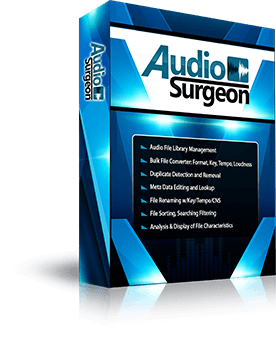 Audio Surgeon not only can help you organize your audio library, but it can save you an enormous amount of time and therefore money. Its ability to analyze and display all of the important characteristics of a batch of audio files is just the start. Finding duplicates, repairing ID3 tags, appending file names, changing key, changing tempo, and normalizing volume on a single file or thousands at a time, are additional invaluable, time-saving features.
Take our fully functional, 4-hour demo for a test drive today and find out just how valuable it is. Unlike a lot of demos which work only for a prescribed period of time like two weeks or a month, Audio Surgeon doesn't work on calendar days. So you can use it today, next week or next year. The Audio Surgeon demo has a limit of 4 hours of run time, so if you are not using close it, (not minimize but close) to stop the demo countdown timer and preserve your unused time.
Audio Surgeon comes with a 100% money back, 60 day guarantee, and runs on Windows XP – Win 10 and Mac OSx 10.8.5 – 10.13