Privacy
Free Download
Buy Now!

Windows 7 – Win 10
64 bit Processor

Mac OSx 10.13 – 11.01
64 bit Processor
1. Collection of data
AudioSurgeon.net may collect any of the following information, depending upon your use of the site: Name, Email Address, Address, Phone Number, and Credit Card details. Customers that purchase our product(s) provide all of the information previously listed. Those visitors who subscribe to our newsletter or who request one of our free gifts will have provided us with their email address and name. Most visitors who come to our site provide us with no information. Please be aware that the information you provide may render you personally identifiable. As on many web sites, the site owner may also automatically receive general information that is contained in server log files, such as your IP address, and cookie information.
2. Use of data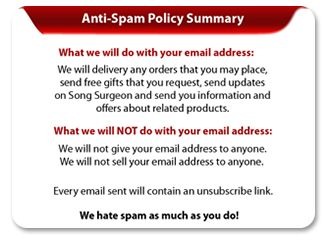 Data may be used to customize and improve your user experience on this site. Data is also used by AudioSurgeon.net to send newsletters, new product announcements and sales letters from time to time. Efforts will be made to prevent your data being made available to third parties and normally is not given, sold, rented or disclosed to anyone unless: (i) your consent is obtained, such as when you choose to opt-in or opt-out for the sharing of data; (ii) a service provided on our site requires interaction a third party with or is provided by a third party, such as an application service provider; (iii) pursuant to legal action or law enforcement; (iv) this site is purchased by a third party, in which case that third party will be able to use the data in the same manner as set forth in this Policy. In the event you choose to use links that appear on this web site to visit other web sites, you are advised to read the privacy policies that appear on those sites.
3. Cookies
Like many web sites, this web site sets and uses cookies to enhance your user experience, such as retaining your personal settings. Advertisements may appear on this web site and, if so, may set and access cookies on your computer; such cookies are subject to the privacy policy of the parties providing the advertisement. However, the parties serving the advertising do not have access to this site's cookies. These parties usually use non-personally-identifiable or anonymous codes to obtain information about your visits to this site.
4. Changes to this privacy policy
Changes may be made to this policy from time to time. You will be notified of substantial changes to this policy either by through the posting of a prominent announcement on the site, and/or by a message being sent to the e-mail address you have provided, which is contained in your user settings.
5. No Guarantee
While this privacy policy states standards for maintenance of data, and while efforts will be made to meet these standards, AudioSurgeon.net is not in a position to guarantee compliance with these standards. There may be factors beyond the site's control, such as hacking intrusions and other unlawful acts that may result in disclosure of data. Consequently, the AudioSurgeon.net offers no warranties or representations as regards maintenance or nondisclosure of data.
6. Contact Information
If you have any questions about this policy or this web site, please feel free to contact us at info(at)audiosurgeon.net.